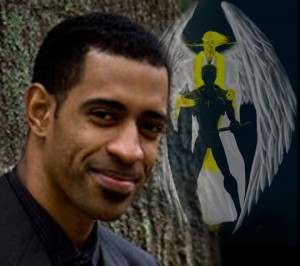 If picking the brains of artists  Eric Merced,  Dave Weiss and Joe Spicer was not enough ( all of whom participated in what we call our Angels Among Us online art show) we're going to continue to give you more insight one more of the artists that created the project:
And now…Devin Smith:
1. What inspired you to create the work that you did for AAU (Angels Among Us)?
To be honest, I was short on time to complete the project, and I had the idea to use an existing drawing of my comic book character, Crusader, and transform the piece into something relevant to the show. I believe it was the Lord's idea all along though. I love what the Word says about angels being God's ministering spirits and even flames of fire (Psalm 104:4), hence the golden flowing flames of the angel's body.

2. What medium did you use?
I used pencil on paper for the original sketch and then moved to working in Photoshop with a wacom tablet.
3. Is there a process or protocol you go through before you begin
creating, and if so, what is it?
Sometimes I bow my head and pray that the Lord would work through me, but other times I just start drawing what's on my mind.
4. How long did it take you to complete this piece?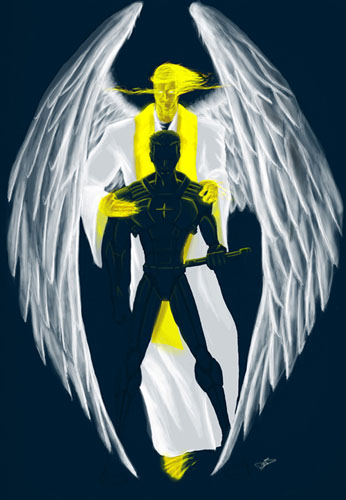 It was probably between 7 and 12 hours. In other words I lost track of time and really don't remember, haha.
5. Was the image influenced in any way by anything in your life?
It is symbolic of going through a period of anger and how anger unchecked can cause darkness. There would be no light in this scene without the presence of God's angel.
6. What artist(s) inspires you?
Josh Nizzi, Justin Gerard, and Skan Srisuwan all inspire me in different ways. I love Josh's detail and his general art style. I love Justin's imagination, the fact that he's local talent, and that he has AMAZING talent in traditional and digital painting. Now Skan's style is close to where I feel I want to be some day. He has an Asian flair to his work that I love.