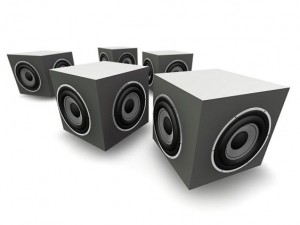 You ever wonder why great ideas seem to hit you while taking a shower? It's because it's one of the few remaining places where God can reach you and you're not distracted with the background noise of today's world.
 Let's face it. One hundred years ago, it was probably so much easier for a Christian visual artist to hear the leading of the Holy Spirit because they weren't distracted by:
Hundreds of cable/satellite TV channels.
24 hour TV networks.
24 hour radio.
Millions of websites on the Internet.
Phone calls that can reach you no matter where you are.
Business email messages.
Personal email messages
Facebook
Twitter
 Today's world is filled with so much noise that  it's harder than ever to get time away to be able to hear the still, small voice of the Spirit of God. I've even caught myself turning on the TV just because I'm more used to the background noise than I am the sound of silence.
 To break this habit, I dare you to take the 15 Minute Silence Challenge:
Take the next household duty that you'd normally do while the TV is playing or while the radio is on, etc. Conduct that duty without the background noise by refraining from turning those things on.
Continue the task, be it ironing, making your bed, etc. for at least 15 minutes. Don't answer your cell phone or even look at it! Instead, use this time to do the chore while listening for and remaining open to the voice of God in the form of an idea or thought. It sounds too simple, but somehow you'll be able to tell the difference between your thoughts and God speaking to your spirit! The lack of the background clamor sets the stage for it to happen.
Take it up from 15 minutes to 30 minutes at your own pace. The key is to get used to the silence, peace and clarity that it ushers in. If you're always on the go and taking in noise from sunrise to sunset, it can for a moment feel like a strange process.
Artists are communicators, and a Christian artist or designer can be the mouthpiece of God. But the mouthpiece of God must be able to hear the mind of God in order to effectively carry out His plan for your creativity.
What do you think about the The 15 Minute Silent Challenge? Post your thoughts below: