A few weeks ago, many of you asked some great questions about how to start a Visual Art Ministry, especially one in your church. I reached out to those within the ALFG network that have had experience in this.
Here's some feedback from what those creative leaders had to say based on their first hand experience in starting Visual Arts Ministries:
What to Consider First
Linda Sines is a part of a Chattanooga, TN based group called "RED" that participates in Worship Art, a method of worshiping God using art.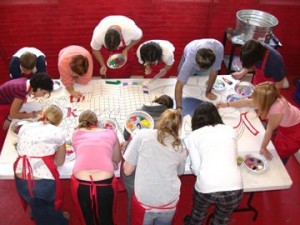 I like the fact that Linda speaks primarily on making sure that everyone is on the same page, clear and comfortable with the agreed upon vision of the Visual Arts Ministry.
Linda starts this off with a few critical questions that cannot be ignored when it comes to considering the launch of a Visual Art Ministry within your church:
"What is the direction of the church board/pastor?"
"Are they in support?"
"Do they understand the value?
"Is there trust in the process?"
The answers to these questions would establish the mission of the Visual Arts Ministry, and would determine how those involved would execute their talent.
Would art be limited to traditional Christian images with Bible verses tacked on them or relegated to only creating the backdrops and props of theater productions? Or would the ministry be about reaching the artists within the church and putting their gift back into practice?
The vision and goals of the Visual Art Ministry may or may not be in line with what you feel called to. Not that this is a bad thing, but it does challenge you to seek God about your involvement. Gaining clarity by asking questions sets the stage for going further.
REACH IN to the Individual Artist:
What exactly would this ministry do? Who will it minister to and what does that look like?
Matt Tommey, founder of The Worship Studio in Asheville, NC recommends centering the activity of a Visual Arts Ministry within the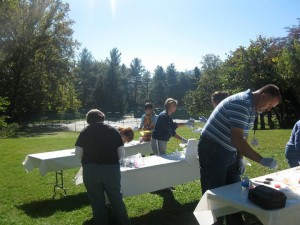 small group study setting. Principles and concepts that help edify the artist can be the center piece of the group coming together internally, and then expressing themselves externally through shows or community workshops.
This approach could be the key to turning church attendees to members.
REACH OUT to the Rest of the Church or Community:
Some churches and groups use Visual Art to reach the larger community. Coast Hills Community Church in Aliso Viejo, CA, launched an incredible project called The Cross Collaboration where over thirty people from the church made their own unique designs of the cross for a Good Friday Service. Made of all sizes and materials, each cross told the passion of Christ from a unique and personal perspective.
See the video below to get the full experience>>
Books That Can Help:
Two books that Matt (as well as I) recommend that can be incorporated in a Visual Arts Ministry via  a study group or solo are "Unlocking the Heart of the Artist" by none other than Matt Tommey himself, and "Finding Divine Inspiration" by ALFG subscriber and author J. Scott McElroy.
Linda highly recommends "The Art of Curating Worship" by Mark Pierson. She says it contains some very good directives for team building and artists working with other leadership members within the church.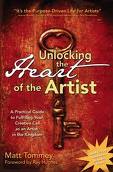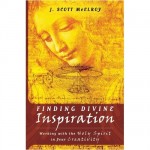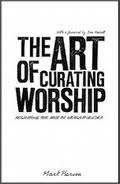 Ministries to Check Out: