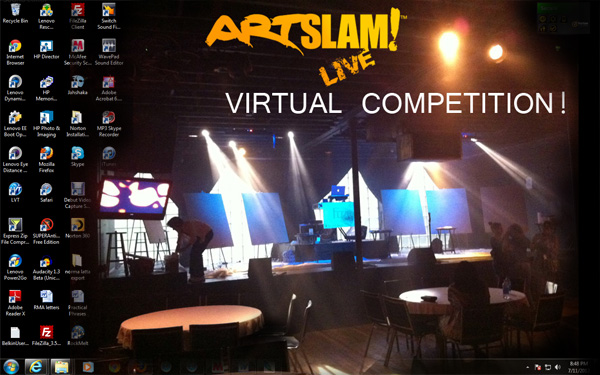 More artists are discovering that Facebook's Fan page and the Timeline layout are great tools for building audience and connecting with your customers.
Studies show that people "Like" posts with photos more than posts with text only. Great resource for artists!
And let's not forget the new kid on the Social Media block, Pinterest. Pinterest is all about users viewing and sharing pics. Another great resource for artists!
So with all this in mind, I decided to test launch a virtual ART SLAM LIVE™ challenge, using Facebook, Pinterest and the ALFG blog as the "galleries. It's an online competition featuring 3 ART SLAM LIVE™ vets: Karina Delanuez, Allison Hall and Patro Ulmer.
Visit one or each of the versions of this VIRTUAL ART COMPETITION and cast your vote for your favorite of the 3:

OR…Go to the Facebook version of the contest:

OR…Go to the Pinterest version of the competition:

How do YOU think you can use Facebook, Pinterest, Twitter or any other social media tool to give a new twist on old ideas?