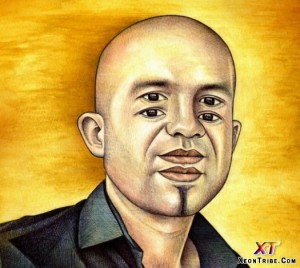 Q: Are Creative People Weird?
To the untrained eye, the answer would be "yes".
That's because highly original people seem odd or strange because we often confront the conventional.
Q: Are Christian People Weird?
To the untrained eye, the answer would be "yes".
That's because people that really believe an invisible God can speak to and guide them seem odd or strange because that belief confronts the conventional.
Q: So, what about Creative Christians?
Well, those guys are NUTS!
Here's where that puts me on the "Weird Meter":
1.    First of all, out of the general population, I'm a Christian. Now, that puts me high on the "Weird Meter" of many!
2.    But of the Christian population, I'm also a Visual Artist. That makes me "Weird" among the "Weird".
3.    Let's not stop there! Of the Visual Artists, I'm into Sci-Fi/Fantasy and Comic art. So that can get really weird!
But here's what the Word really says about our "weirdness" or being "peculiar":
"But ye are a chosen generation, a royal priesthood, an holy nation, a peculiar people; that ye should shew forth the praises of him who hath called you out of darkness into his marvelous light;" 1 Peter 2:9
Initially reading this you may think that "peculiar" is defined as "strange" or "odd".
But the deeper translation (in the original Greek and even for the English term) is "a people for a possession" meaning a person that literally BELONGS to God.
It means that we are people belonging to God, and to no other.
Yes, creative people may seem a little strange and odd, and I believe that's the way we are intentionally wired.
But Christian creatives (as with all Christians) are "peculiar" in the sense that we BELONG exclusively to God. We are "peculiar" because we are unlike other creatives…we BELONG to and are at the access of the One that we belong to.
That means that we believe God Himself speaks, sees, and expresses Himself through us, using the very creative talent He placed within us for His use.
And THAT makes us different.
THAT makes us fantastically weird!
What are YOUR thoughts? Post a comment below: