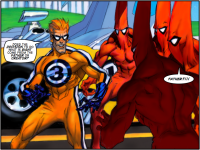 This guest post is by Dan Lawlis, professional illustrator and author of Orange Peel 3, a Christ-centered online comic.
Consider your average kid is reading your average comic book, let's say its Batman. You know the story, the Joker is threatening the city, and in comes Batman, he throws his Batwing, it hits the switch that turns off the death ray, and saves the city in the nick of time.
The problem is, he always wins. Batman never faces death, so he doesn't have to confront life. When the kids try to mimic their heroes in the real world and lose, they aren't prepared for that, and they fall apart. In the real world Batman misses with his batwing and innocent people die.
Over the years comic book story lines have grown up in subject matter, but they haven't grown up spiritually. What's the result of this? The characters become bitter, grim, mean, brooding types, more evil looking, grey and colorless.
In the absence of the power of God, these characters go to the other guy. He's the one that seemingly comes to the rescue, selling his lies that if you just get mean and angry enough, you can force your will on the world. Talk about a setup for failure.
There's only one realistic antidote to this situation. As writers and artists, we have to go into that fantasy world, and deliver a Christian message that will teach them the way out. The Christian message says go out and fight for what's right, but you can't lose, because there is always hope in this life, and the next. The bad guys may win the battle, but we have faith that we will win the war. The truth is that we know we can never lose, ever.
This is why we need more Christian characters.
A lot more.
What do YOU say about this? Post a comment.
Visit Dan's online comic at: www.orangePeel3.com