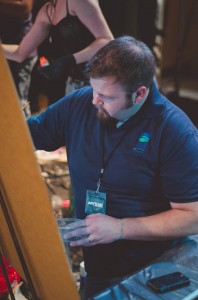 Using my "Artists In Action" series, I always try to motivate you into creative action by showing you another creative already in action.
Today I'd like to introduce you to Scott Beers. Scott is the Creative Director at my church, and although much of his design work is in the digital space, he loves painting.
After seeing the work Scott created at our most recent ART SLAM LIVE™ event, I had to make sure you all met him, too! Check out our interview:
1. Tell us who you are and what you do as an artist/designer:
My name is Scott Beers and I am Creative Director at Redemption in Greenville, South Carolina.
2. Now tell us about your artistic/creative background:
I have drawn and painted from an early age. I always dreamed of working for Disney as an animator. After one year of art school, I changed my major from illustration to advertising. I was a quick thinker, and always had a love for creative writing so it seemed like a logical choice. After graduating college with a degree in Visual Communication, I worked at several large advertising agencies in Indianapolis. I have worked for high profile clients such as Simon Property Group, National Collegiate Athletic Association, National Football League, Indy Racing League, and various national restaurant chains, hospitals, homebuilders, and financial institutions. I also had the opportunity to teach design and typography at a college level. I love to paint as well in my free time when I'm not knee deep in design work.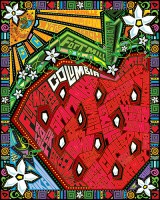 3. What role does God play in your life and in your work?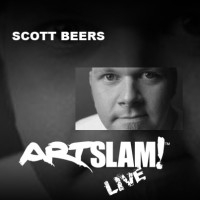 I've always been involved in ministry, and church from the time I was very young. I accepted Christ when I was 12 and strive each day to be more like him. Every day I fail… but I pick myself up and try harder the next day. After spending many years working in the 'secular world', I've been so blessed to work in ministry professionally the past year. I am nothing without God in my life. I recognize my life's blessings come from him. I love the creative heart he gave me. In the mornings, I thank God for the people, places, and things he's provided. I pray they will be used to glorify him and further his kingdom.
4. What advice can you give the rest of us?
1. Never go to Walmart after midnight.
2. Eat it, don't tweet it. (Nobody cares what you had for lunch)
3. Jesus can change your life if you get to know him.
5. What's the latest project that you're most excited about?
I always enjoy participating in logo design contests locally and at the national level… whether it is a festival of some sort or a small business start up. It's always fun to be a part of the creative process and see your work being appreciated. I had a wonderful professor in school tell me once "good design goes to heaven… bad design goes everywhere." There is always work out there. Something that could be better than it is. Each day presents it's own unique challenges, however that's what a designer lives for. You have a creative problem? Lucky for you… I have a creative solution.
Be sure to visit Scott's website here: http://about.me/scottbeers