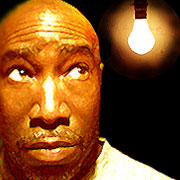 Here's a question my Facebook friend India sent my way:
QUESTION:
"I am creative but I've spent the last 9 years working in a very dry, finance job and I did not like it at all. It pretty much drained all of the life and creativity out of me.
I've recently gotten a new job in marketing and I struggle with creative thoughts.
What used to come somewhat naturally is now very much a struggle.
I used to design business cards, flyers, web templates and did a great deal of creative writing. Now I can't seem to produce an idea.
I worry that I've damaged what I had.
My challenge? To be the best marketer my district has ever seen, and prove that I was a good choice."
ANSWER:
India, 2 things I'd like to say on this:
1. God equips us in the workplace to be a solution to the company's problems. They find value in YOU because you can fix the problem they face…in this case, their marketing challenges.
Now, the 2nd thing…
2. God always sent his chosen to do a job that they CAN'T do. It may sound weird, but look in the Word and you'll often see the seemingly least qualified sent by God to answer the call. That's were God sets the stage to perform THROUGH you FOR the people He's blessing (your employer).
What used to come to you naturally, as you mentioned earlier, will now have to come SUPERNATURALLY…God's "super" added to your "natural" marketing ability. That's a true example of the ANOINTING in action.
See Page 52 from my book "God's 7 Keys for Creative People" for more on this.
I go into great detail because this is an issue many creative face.