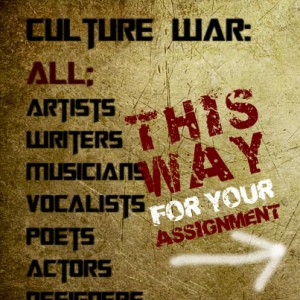 A while back recently asked, in reference to a previous post, what I meant by "culture war". Here's my interpretation of The Culture War and how I believe we creatives fit within it:
Culture is defined as:
"The behavior patterns, arts, beliefs, institutions, and all other products of human work and thought, especially as expressed in a particular community or period. A "way of doing things" for a particular group of people".
So, with "culture" basically being defined as the way a group of people behave; the "culture war" is when there is conflicting behavior within that society or group.
From the Christian's perspective, we live to pattern our behavior based on what the Bible teaches. But more often, what the bible teaches about how we are to behave is the opposite of what the popular society teaches as acceptable.
Behavioral practices (culture) such as the following are classic examples of Christians believing one way and popular culture believing the polar opposite:
When should people have sex?
Who should people marry?
When and where is it permissible to pray?
When and where is it permissible to mention the name "Jesus"?
The Christian's cultural practice is a life of asking "What does God say about it?" and then responding accordingly.
Popular society does not ask that question, and often believes those that do are "out of touch", old-fashion or even "hateful" (e.g., concerning marriage).
What does all this have to do with Creative People?
That's how the culture spreads! Cultural beliefs and thoughts are introduced, exemplified, then reinforced through:
What we see, what we hear, what we read, what we talk about…all things created by artists, designers, writers, musicians, actors, directors, etc.
What are YOUR thoughts concerning the "Culture War"? Post a comment: