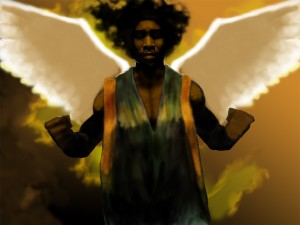 Several years ago I wrestled with the thought that to declare myself a Christian, every bit of my creative work had to be about Christianity, the bible, the gospel message or even have a hidden Christian symbol within it…because I was now a Christian artist.
I often felt that some work I wanted to do was of lesser value because it was not a "Christian" theme.
Although I was past what I call the first "identity crisis" and had now wholeheartedly accepted and identified with Christ…this new identity crisis was upon me…
Am I a Christian artist…or an artist that is a Christian…and was there a difference?
For example:
I have many friends who consider themselves "Christian comics creators".
Often their work looks similar to mainstream comics, but the character clearly has a symbol, a name or both that brands them as a representation of Christ and/or the gospel message. Does that limit their reach? Or would the omission of such obvious symbols water down the gospel message?
A different example:
My eyes were opened on a new level when I was introduced to the work of writers C.S. Lewis ("The Chronicles of Narnia") and J.R.R. Tolkien ("The Hobbit"), discovering that these fellow Christian creatives produced work filled with fantasy and adventure, work that could point to the gospel…but no cross nor mention of the name "Jesus" is seen.
Christian Writers or Writers that are Christians?
How do you view yourself? Take the poll below (share a comment, too!):